Yesterday I went to the Ubuntu Developer Summit M, because it was held in Belgium, and I was interested in how uds worked (I picked some ideas up for our own Fudcon
) . That morning  Toshaan picked me up at Gent-Sint-Pieters. We arrived around 9am at the Dolce La Hulpe Hotel and Resort, Brussels, Belgium.
The day started off with an Introduction by Jono Bacon. After a quick search we know that bacon is also popular within Fedora! After Jono explained how UDS works Mark Shuttleworth gave his keynote.  (video) Mark talked about ubuntu light and about talking to upstream if there work is ready and blah blah. I totally disagree with him there, you should start talking to upstream before you do cong fu. During the day I learned that working with upstream comes from the community, in stead of from canonical. *sigh* Mark hinted that the next release date should be on 10 October 2010 (101010b = 42d).
First I went to the opening talk (round table) about Security. As a Fedora guy, I started promoting SELinux there, as a solution for some of there 'problems', but they were still quite sceptic about it. Next I went to the Configuration management tools and files. It was a really fascinating look at the current state of config file management via dpkg. something RPM does better.
At lunch I got to hang out with Elizabeth Krumbach and Martin Owens. We had some interesting discussions about the cultural differences in the Fedora and Ubuntu community. Of course we had to take a picture, and mr Martin thought it was funny to give me bunny ears. I'll get him back!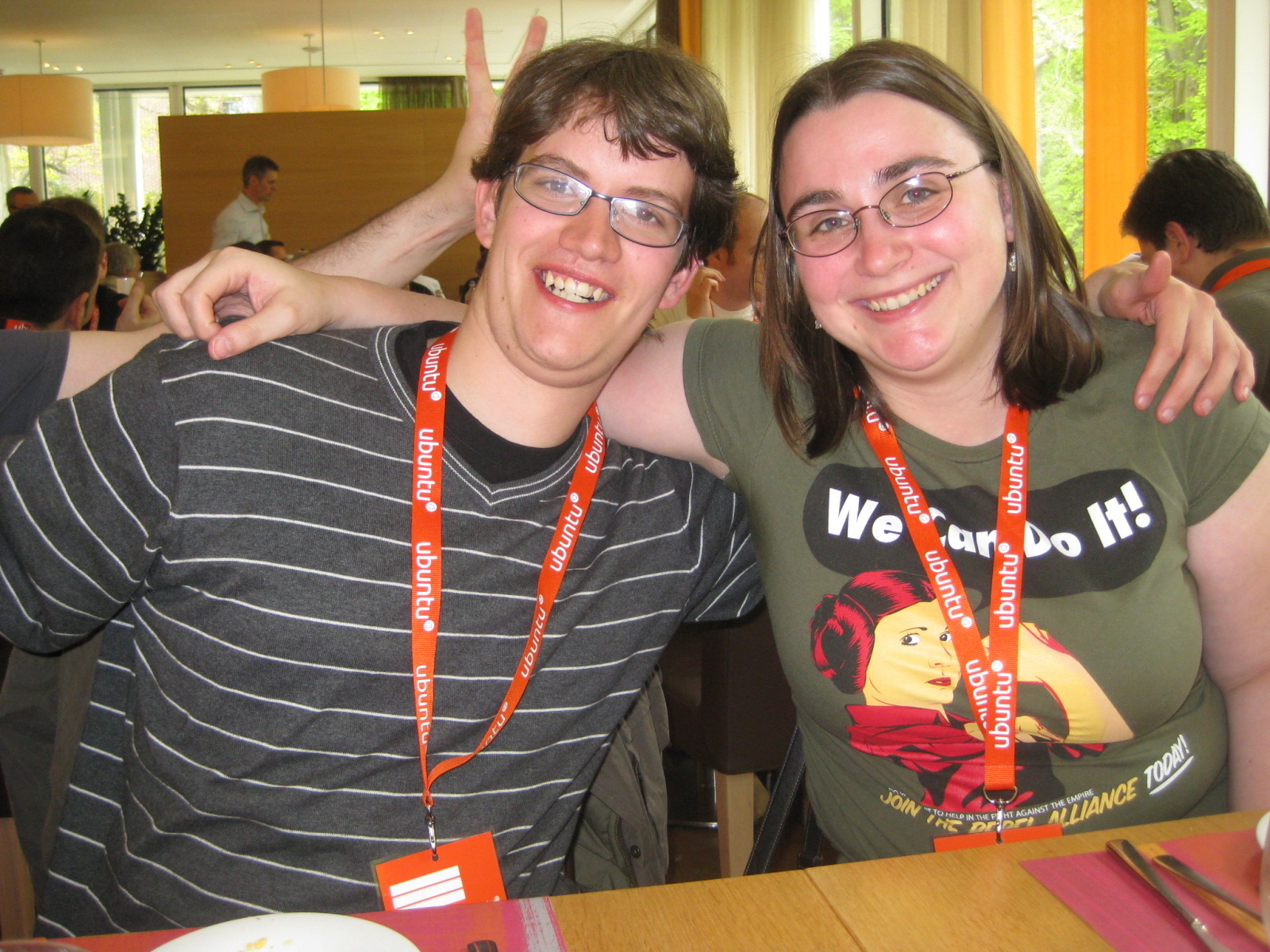 After lunch there was a series of Plenaries, starting with Ivanka Majic presenting for The Design Team (video) where she discussed some of their user testing of Ubuntu 10.04 which they'll be posting on the design blog soon. Next up was Thiago Macieira presenting on QT Roadmap / Overview (video) and then Rick Spencer on Application Developers and Maverick (video).
In the afternoon I went to some other talks.
I got one good idea from UDS that we could use during FUDcon too: round tables in the morning, get work then afterwards.
Maybe I'll come over to UDS on Thursday or Friday too, but I'm not sure yet.