Day 0
The FAD
It's starts to become a tradition, the FOSDEM FAD [1] on Friday at 'A la mort subite', the day before FOSDEM starts. I think we were with some 20 people, which was nice. During the fad also people from other projects, like GNOME joined us. This is something we totally promote. Fedora is more than Fedora alone, it's part of a big ecosystem.
The first topic we tackled was FUDcon EMEA 2011. Where should it happen? We learned that Paris might be a possibility, or Brno. Jared created the bidding page [2], so if you know another awesome location, and you feel like organising FUDcon, please add your location to the wiki! I'm hoping I can organise one in the Netherlands, but I need to find a good location first.
We also had a brief discussion about how to fix and re-grew the fedora ambassadors in Europe (and LATAM). One of the conclusions was that the Fedora Ambassadors project was successful, but that Linux is now is a quantity now, and that we maybe should go to other conferences. (and in my opinion, maybe rethink about how to organise a booth at tech events).
Our latest big topic was Fedora an education. Most people are concerned who will support the universities and colleges.
The overall conclusion was that Fedora contributors at this moment are not super happy about Red Hat. But our goal is to fix that, so by FOSDEM 2012 over 50% is happy with Red Hat.
The complete irc transcription is also online. [3]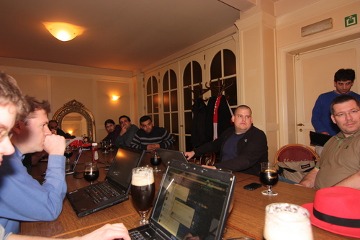 Evening
Another tradition is getting food at the 'Drugs Opera'. [4] I think everyone agrees that the food was again good. After the Fedora activities for that day officially stopped, we all went to the FOSDEM beer event [5] in the famous 'Delirium Cafe' [6], where a lot of people that 'one beer to many'. It was -as each year- very crowded, but fun never the less.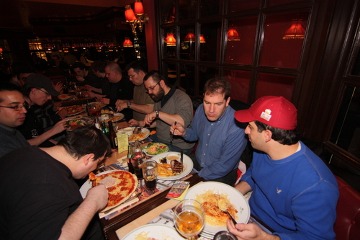 Day 1
FOSDEM
We met up at the venue [7] at 9am to start build up the booth. We had again a pretty big booth where we gave away cd's, stickers and buttons. We also had a laptop that was running Fedora 14, and an OLPC who got a lot of attention. There were also a lot of Fedora Contributors at FOSDEM who gave a talk. Lennart Poettering (systemd: Beyond init),  Gratien D'haese (Linux Disaster Recovery as a Service (with rear)), Jared K. Smith (Swimming Upstream && Distribution collaboration manifesto), Hans de Goede (Downstream Packaging collaboration && A presentation of SPICE an opensource remote virtual desktop protocol && USB redirection over the network), Marcus Moeller (Deploying sssd). I hope I haven't forgot someone. And I also want to thank everybody who did booth attendence, and the people who gave one or more talks. Fosdem stopped at 7pm.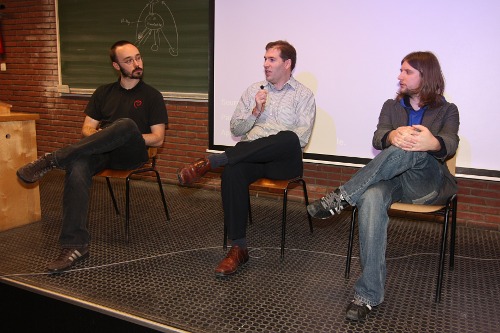 Evening
Every one went his own way to grab some food. Jan Wildeboer [8] invited everyone to a small party [9] where (almost) everyone was planning to go to. But many left again to go their own path because it was very crowded in the bar.
Day 2
FOSDEM
Sunday was a bit the same as Saturday. Talks, Booth attendance, meeting awesome people, having fun, explaining what we stand for, trying to gather some new contributors, etc etc.. one big difference was: Jan joined our booth to open a registration office. The 'Transnational Republic' gained more than 30 people that day. Sunday is also the day that a lot of people leave brussels to go home.
and a group picture at the end of FOSDEM
Evening
8 people wanted to see the super bowl. Max had reserved a table at the 'Fat Boys' [10]. and that was the end of Fosdem. 3 days of serious work, but also 3 days of fun. Hope to see you all again next year!
Links
[1]  https://fedoraproject.org/wiki/FAD_FOSDEM_2011
[2]  https://fedoraproject.org/wiki/FUDCon_bid_process
[3]  http://meetbot.fedoraproject.org/fedora-fad/2011-02-04/fad_fosdem_2011.2011-02-04-12.00.html
[4]  http://www.drugopera.be/
[5]  http://fosdem.org/2011/beerevent
[6]  http://www.deliriumcafe.be/
[7]  http://www.ulb.ac.be/
[8]  http://jan.wildeboer.net
[9]  http://jan.wildeboer.net/2011/01/prr-privacy-respecting-router-a-freedentity-idea/
[10] http://www.fatboys-be.com
** all pictures are provided by Nicu Buculei – http://nicubunu.blogspot.com/